Product description
Shipping & Return
Product reviews
Shatavar, Safed Musli, Kaunch Beej and Ashwagandha Powder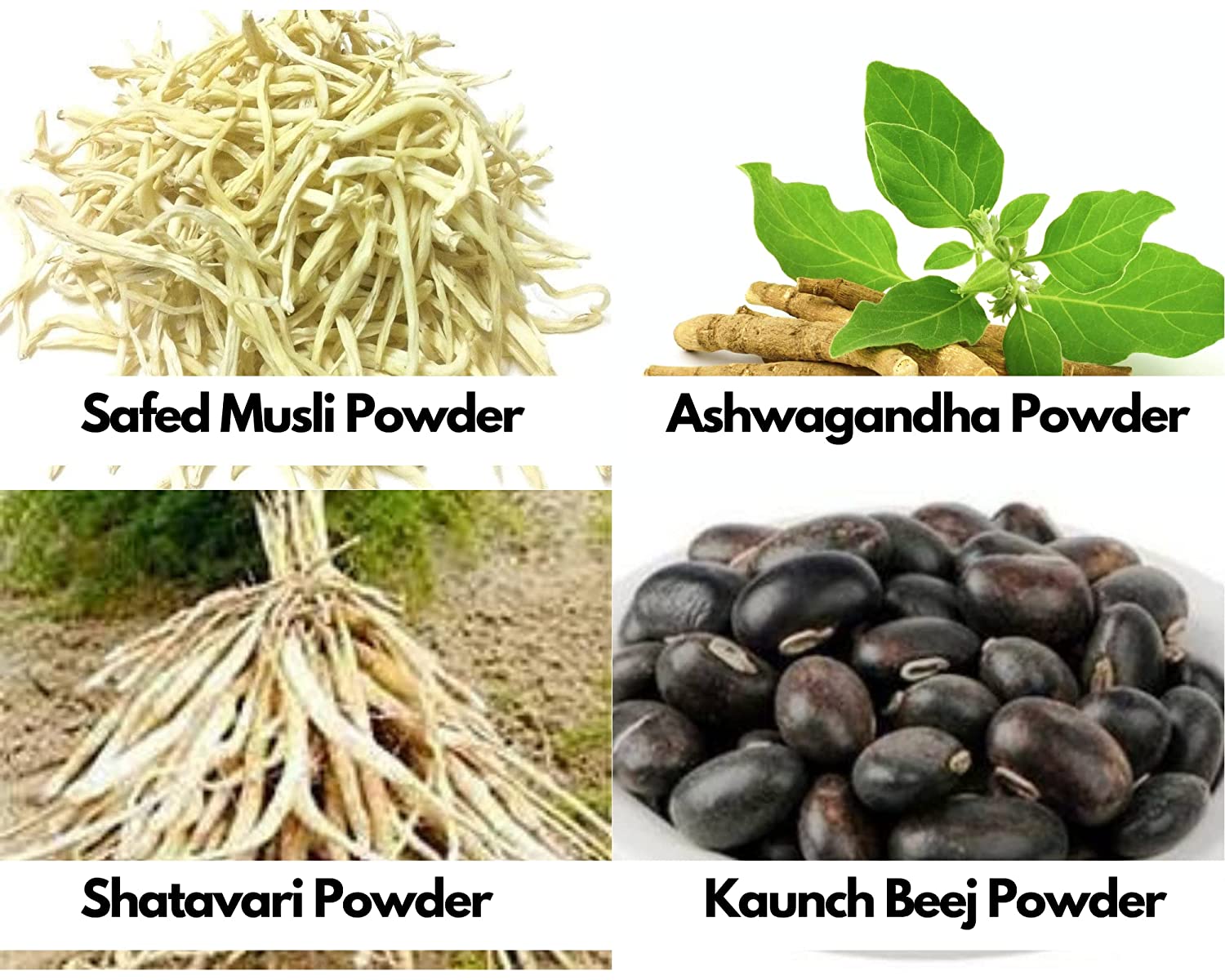 Ashwagandha Powder , Shatavari Powder , Kaunch Beej Powder , Safed Musli Powder Combo



Can we take ashwagandha shatavari Safed Musli Kaunch BEEJ together?


Yes, You can take Ashwagandha & Shatavari together for bodybuilding. ... You can take Ashwagandha with
safed Musali that's an alternative for men or the best thing is to take Chawanprash with Milk if you 
want to add a quality supplement to your regimen while gymming as it contains all the herbs that 
nourish your body


How do you take ashwagandha shatavari Safed Musli Kaunch ke Beej?

And one spoon powder or five grams of this powder can be taken in the milk. Twice a day after half an hour after
the meals this corrects the male reproductive disorder


When, how and why should the powder of Ashwagandha, Safed Musli and Kaunch seeds be eaten?

Why take:

By the way, it is a great Ayurvedic protein supplement for gym goers, yoga practitioners, exercisers.
apart from this, those who have general weakness, lack of sexual ability, sexual dysfunction disorders,
bone pain etc. are very useful in many disorders
How much to take


Those who do more physical work, they can take 2 teaspoons (tea spoon), and others can take 1 teaspoon.

Note 1: Unmarried persons should not consume the powder of Kaunch seed.

Note 2: The above medicine is for men only. .Women can use satavar.

Note 3: Those who have problems with blood pressure, diabetes, please take them only according to the advice
of a doctor.

Note 4: Quantity can be determined according to your capacity.

Shatavar, Safed Musli, Kaunch Beej and Ashwagandha Powder

Shatavar, Safed Musli, Kaunch Beej and Ashwagandha Powder
Shipping cost is based on weight. Just add products to your cart and use the Shipping Calculator to see the shipping price.
We want you to be 100% satisfied with your purchase. Items can be returned or exchanged within 30 days of delivery.